Bobo Light Up LED Balloon Set
Item Number

BALN-2000

Shop more from

Availability:

As seen with gadget guru Katie Linendoll on Rachel Ray!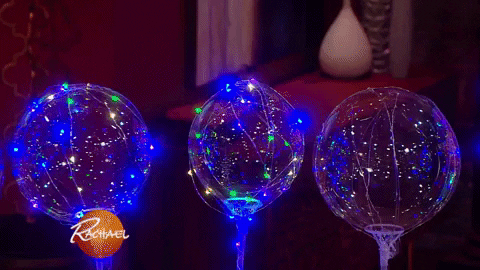 As seen on Rachel Ray with Katie Linendoll! Be the light and the life of the party with Bobo Balloons! The reflection of the lights against the shiny PVC balloon give the illusion of hundreds of lights!
Each Balloon can reach 15 inches in diameter when fully inflated
Reusable!
Balloons are made of PVC
Includes plastic sticks with on/off battery packs in the handles
Fun multicolored LED light string
Not for use with hydrogen! Seriously.
Makes 3 complete balloons.
Includes 3 complete sets of balloons for easy assembly! Requires 2AA Batteries, not included. Inflate using a bike or inflatable pool float pump, not included. The Bobo Balloons shown in our video where taped down to display on a table.